8153565227153
Get instant support with our search!
Back to all articles
MetaLearning 6.0 - How to Add a Quiz to a Fusion Course
When creating a Fusion Course, you can opt to add a Quiz which comprises questions of your choice. This type of quiz is known as a 'Standalone Quiz', whilst quizzes directly linked to MetaCompliance Nano videos are known as 'Embedded Quizzes'.
You can assign a Passmark to both Standalone Quizzes and Embedded Quizzes.
During the Course creation, select Add Learning Elements>Quiz.
Next, select the base language in which you would like to create the Quiz. This is important if your course has multiple languages assigned.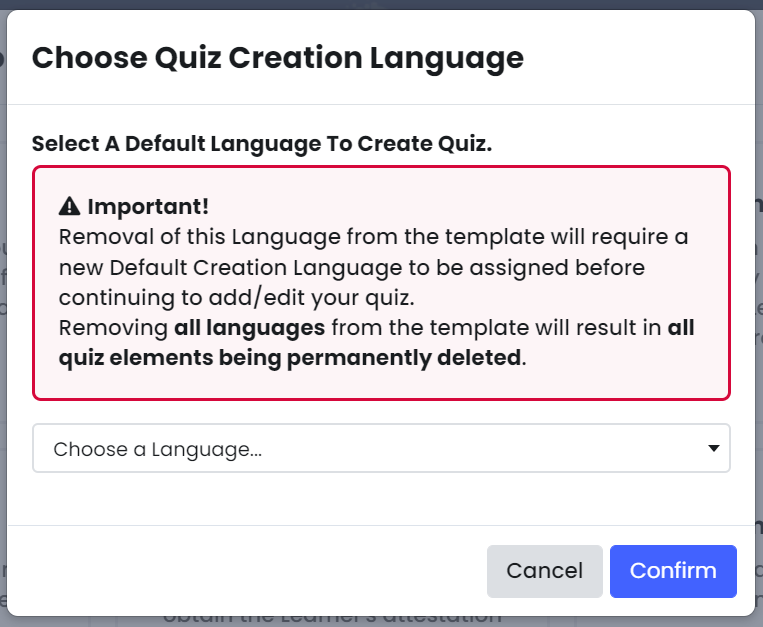 Click Confirm to proceed with creating your quiz.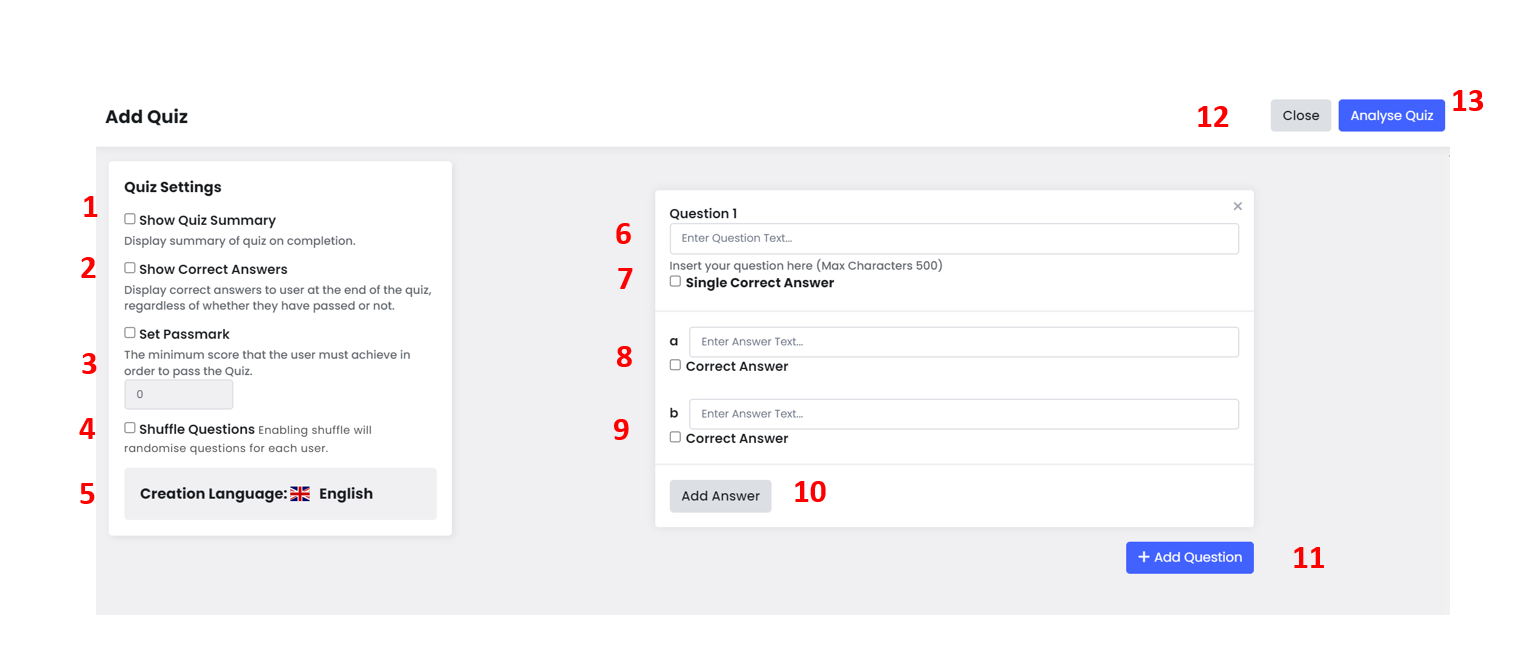 Show Quiz Summary: Enable this option to present a Quiz Summary to end users once they have completed the quiz.
Show Correct Answers: Enable this option to show end users what the correct answers are to help them understand where they have gone wrong.
Set Passmark: Assign an optional Passmark so that users must reach this value before they can proceed.
Shuffle Questions: Using this option will reduce the possibility of users receiving the quiz questions in the same order.
Creation Language: This is the language that you selected when initially creating the course. When using multiple languages, this will be the base language.
Question: Enter the question text into this field.
Single Correct Answers: Choose this option if the question has only one correct answer.
Answer Text: Enter the available answer options for your question into this field.
Correct Answer: Select the correct answer that relates to the question.
Add Answer: Add additional answer options as required.
Add Question: Add additional questions to the quiz.
Close: Return to the Flowbuilder page.
Analyse Quiz: Use this option to validate that all questions have been set up correctly. If there are pending changes required, these will appear above the quiz.
Proceed with adding your questions, answers and selecting your preferred quiz options.
Once you have analysed the quiz, and all relevant updates have been successfully applied, you can proceed to finish your course.
A quiz can have a maximum of 30 questions, with 5 answers per question.
Creating a Quiz in Multiple Languages
If you have selected more than one language within the 'Choose Language' field, and have added a quiz to your course, then you must add all the questions & answers in their corresponding language.
Select the View/Add Translation button to add your corresponding translations.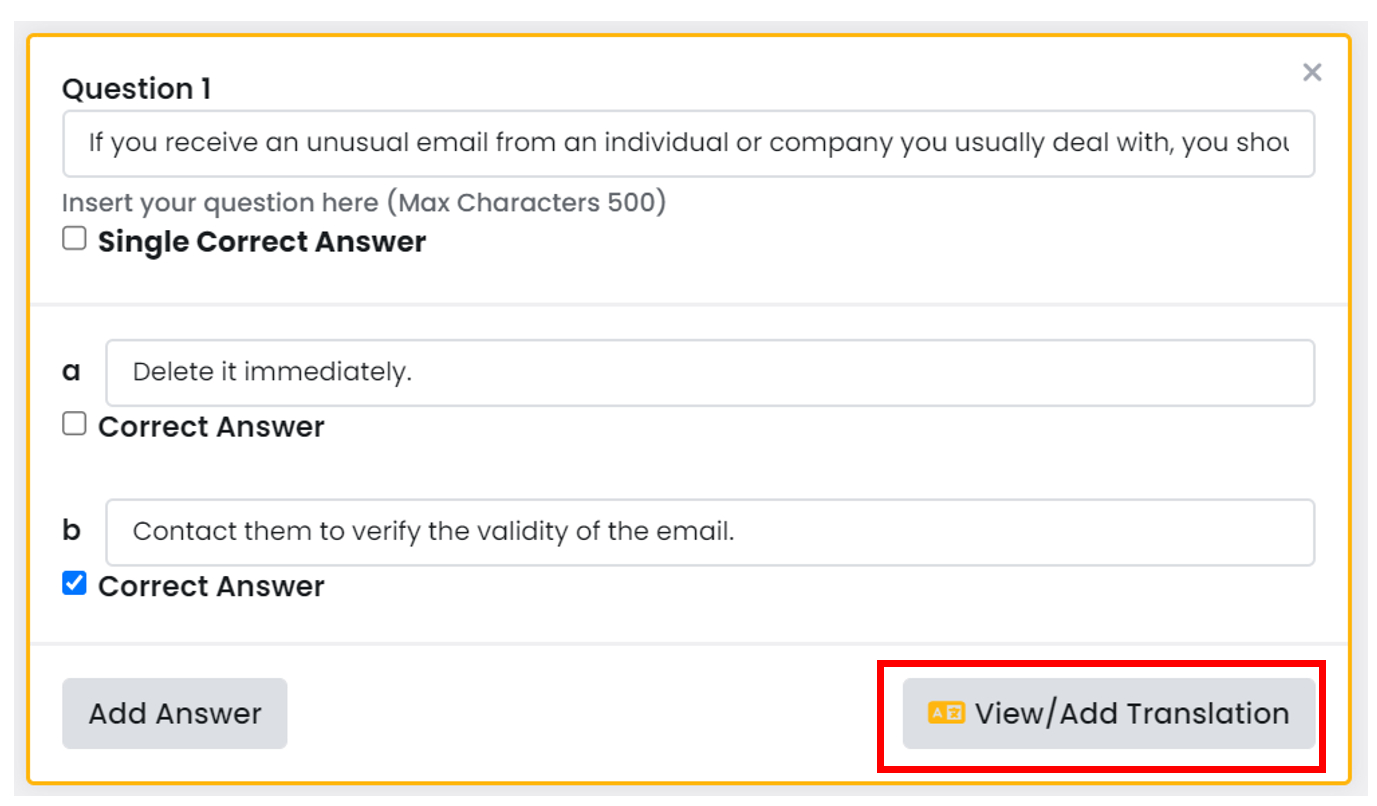 A pop-up window will now appear to assist you with inserting your translations. If you do not have all the relevant translations available, then you can close the quiz and revisit later to add these.
The base language selected at the beginning will be available on this window to help you identify what the translation corresponds to.
When complete, click Save to return to the Quiz screen.
If you choose to add the translations later, a reminder will appear above the Quiz to alert you that translations are required before you can publish the course.