Within a Fusion Course, there are two quiz types:
Embedded Quiz: a pre-built quiz linked to a MetaCompliance Nano Video
Standalone Quiz: create your own quiz with custom questions and answers
We recommend that you include one or both quiz types in your Fusion Course, as this can help to ensure end users are trained on the course topic.
The additional options shown below can be included within these quizzes to help end users understand how they have performed within a Course Quiz.
1. Show Summary
Adding this option to your Fusion Course will present a final summary page to the end user - once they have completed a quiz. The Summary will help the end user understand how they scored within the quiz by showing a full overview of all quiz questions, the answers they submitted, and whether these were correct or incorrect. This option is available for both Standalone and Embedded quizzes.
2. Add Pass Mark
(For Standalone Quizzes only) You can assign a Pass Mark that your users must achieve before they can successfully complete the course. If the user does not achieve the required Pass Mark, and if the 'Show Summary' option has been enabled, they can review the answers they submitted in the previous attempt, and then retry the quiz.
3. Show Correct Answers
Selecting this option will display the correct answer for each question to the end user. End users can review the information, and if a Pass Mark has been assigned, they can retry the quiz again. This is an optional feature that you can choose to include within the 'Quiz Summary' for both the Standalone and Embedded Quizzes.
Examples of the Summary can be viewed below for each quiz type.
1. Embedded Quiz with 'Show Summary' and 'Show Correct Answers' options selected: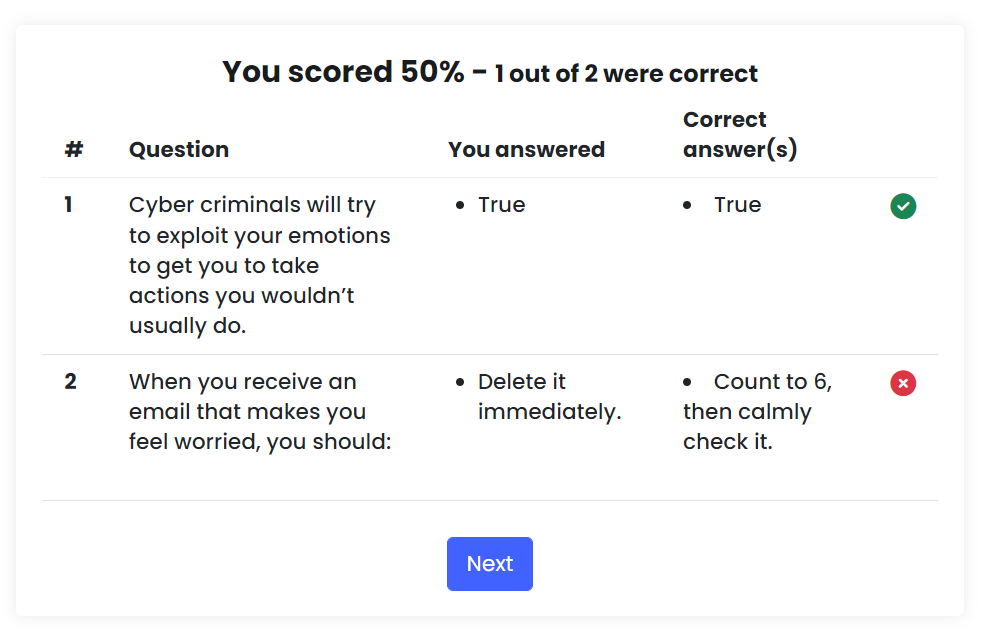 2. Standalone Quiz with a Pass Mark assigned alongside the 'Show Summary' and 'Show Correct Answers' options: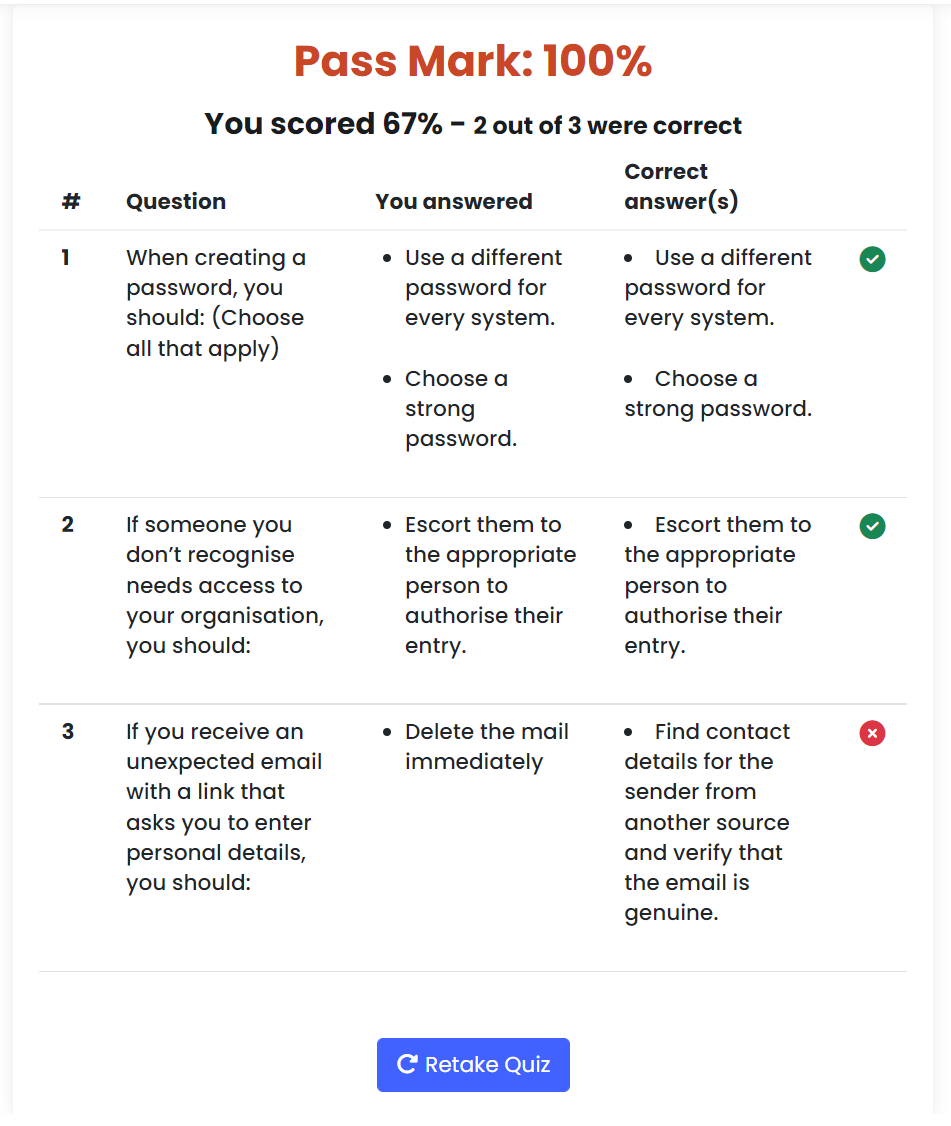 If you would like to include these options within your Fusion Course, first follow the steps in this article to create the course.
Then, to enable the options for the Embedded & Standalone quizzes, follow these steps:
For an Embedded Quiz: select the Include Quiz checkbox on the required MetaCompliance Nano Video; then select Show Summary and Show Correct Answers: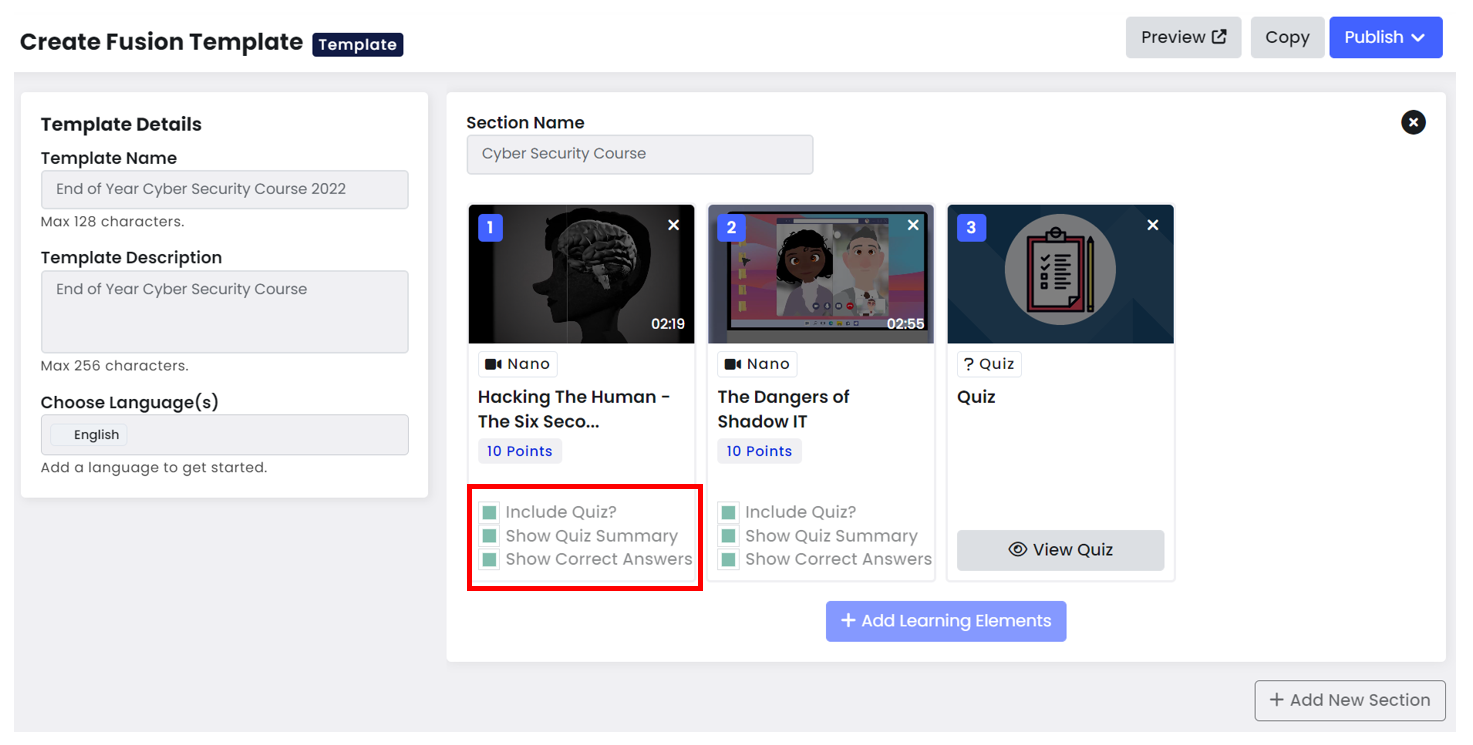 For a Standalone Quiz: when customising your quiz, select Show Summary and Show Correct Answers. To assign a Pass Mark, select Add Pass Mark, and enter your preferred percentage: