Feature Overview
The MyCompliance Teams App provides an alternative method for end users to review and complete their assigned Policies, Assessments and Courses, with no requirement to log directly into the MyCompliance Platform.
As users are working each day within Teams to send messages, join meetings and collaboratively work on documents, why not open up the ability to complete their assigned content via this method also!
The App will help increase adoption levels across the business, ensuring that your staff are effectively trained in helping to keep your organisation safe online.
When using the App, content targeted to users via the MyCompliance Platform will also automatically be available to end users within the Teams App. No extra check needed by the Administrator!
What's Included with the MyCompliance Teams App?
The initial launch of the MyCompliance Teams App includes the ability to:
Quickly review outstanding Policies, Assessments and Courses by selecting the relevant tile: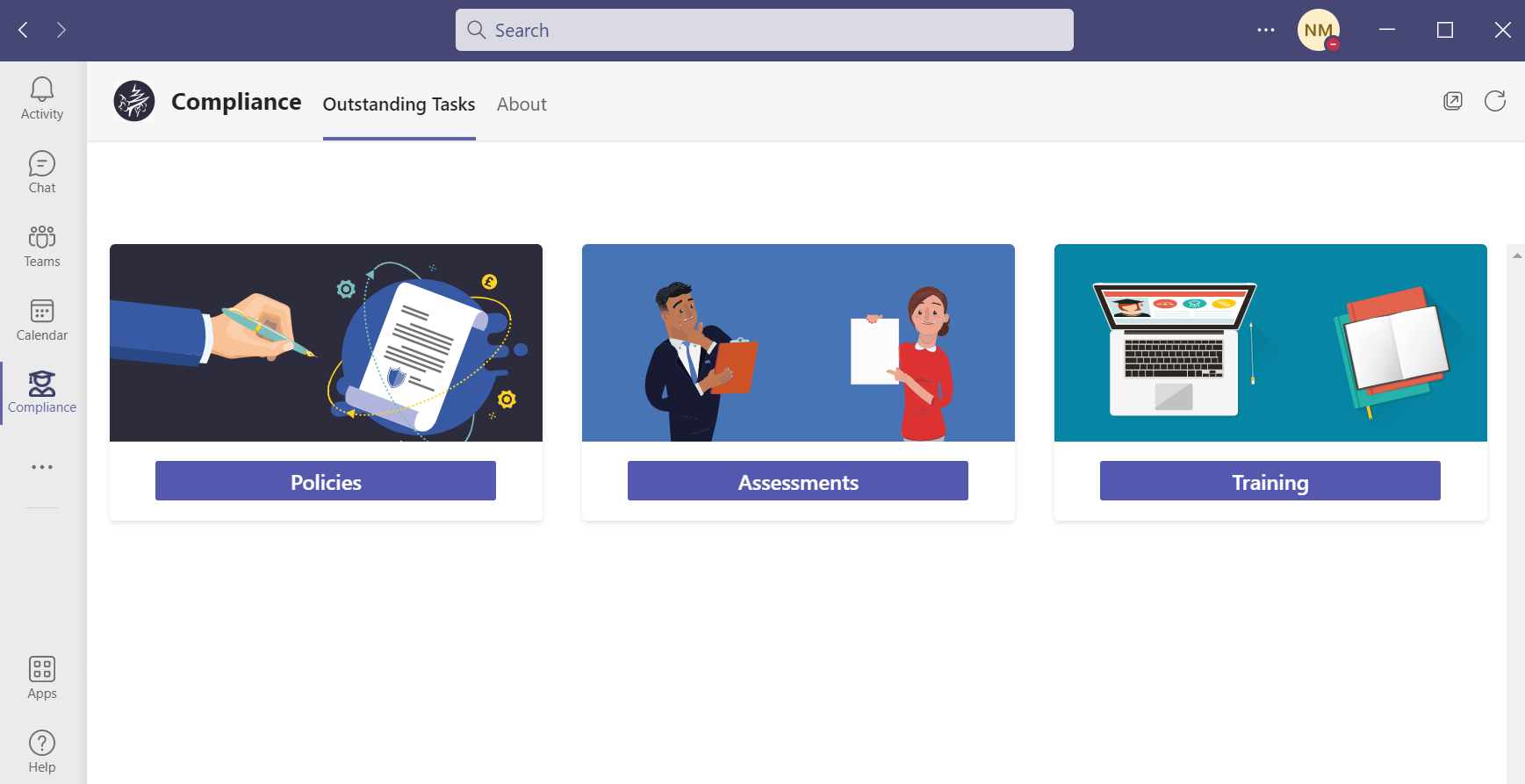 Alternatively, we can provide individual Apps to help you separate these within the Teams Application:


Following this, we aim to enable the following:
The ability to review PDF documents within the Teams application with no requirement to navigate to the browser. (This is dependent on a pending Microsoft update.)
The ability to notify end users of pending content. (Again, this is dependent on a pending Microsoft update.) In the meantime, we recommend setting up a new channel for all staff that would enable your Administrators to alert users when new content is available to review.
Please note the following restrictions have been enforced on the MyCompliance Teams App:
SCORM Courses cannot be viewed via the Teams App. Courses of this type will not be available to users here; however, they can navigate to the MyCompliance Platform to complete their SCORM Courses.
Interactions cannot be viewed on mobile devices.
Users accessing courses via iPhone 7 may experience intermittent issues when attempting to complete courses via the Teams App.
How Can I Access the MyCompliance Teams App?
If you currently meet the technical prerequisites for the Teams App, then you can contact your Customer Success Manager today for further information.