Release Date - 29th October 2022
The Create New pages for Phish, Course, Policy & Survey have all been updated with a new view. This new view will enable you to work more easily through the page as the layout of all forms has been updated to a more linear flow. This has been done to reduce cognitive load and speed up completion.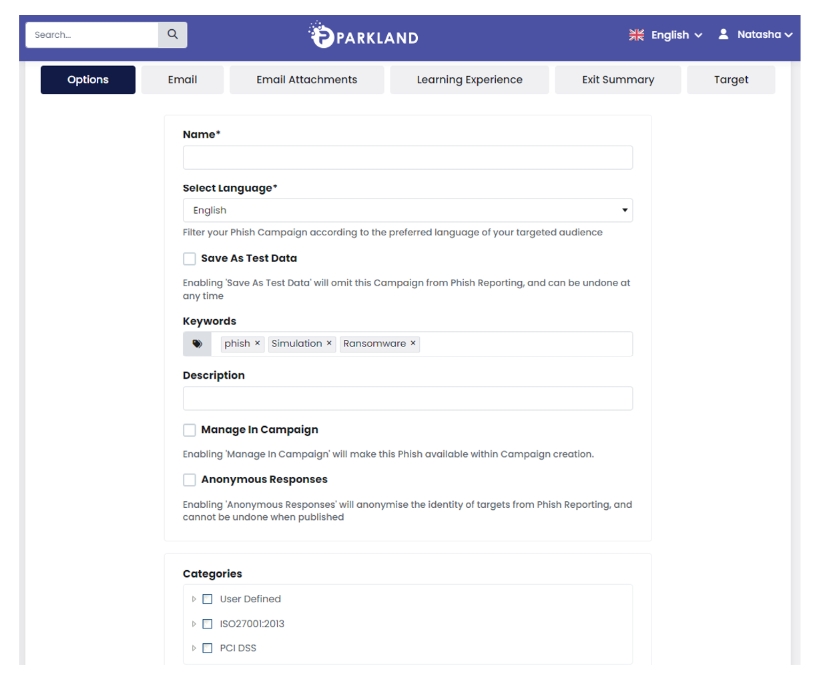 At this time, we have not added or removed any features or functionality on these pages; however, some options will have been re-positioned. Please take a few moments to familiarise yourself with these new layouts when creating any new content on the Platform.
Changes consist of:
'Previous'/'Next' options have been removed as you can now directly select the tabs along the top to move to the required section.
All action buttons are now located at the right-hand side of the screen.
All fields and options are now located from top to bottom of the screen as opposed to left to right.
Options will appear bolder and clearer to see.
The Version Number has been moved from the centre of the view to the left-hand side of the view.
Below are a few comparisons to outline how these changes will help to improve the content creation process.
Phish Creation


Before:


After:


Course Creation

Before:


After:



Policy Creation

Before:


After:





Survey Creation

Before:

After:



Further details on all changes can be located here: MyCompliance 10.0 - User Experience Changes – MetaCompliance.