8972897009041
Get instant support with our search!
Back to all articles
How Do I Add Custom Attributes (End Users & Administrators)?
MyCompliance allows you to create up to 5 Custom Attributes for Email and Federated Users to add into the user's account.
Selecting End Users & Administrators provides the ability to add single select drop-down options as Custom Attributes to user accounts.
If the Data Validation Form has been enabled, the drop-down options, along with Question text, will be presented to end users at the start of every direct access course and will allow them to validate/update their information if required.
For more information on the Data Validation Form, please see the following article: Custom Attributes - What Does Data Validation Do?

To create Custom Attributes, navigate to User Management > Custom Attributes > End Users & Administrators, and then navigate to the bottom of the page.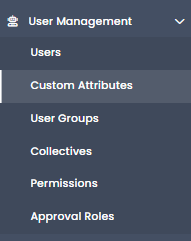 From here, an Administrator can view any created Custom Attributes or create new ones by clicking the 'Add Custom Attributes' button, entering a name, question title, add options and save the new entry.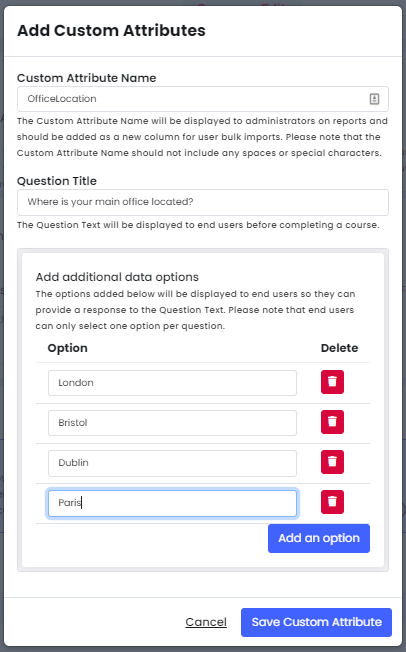 There is also the option to Edit or Delete these fields from the 'Actions' column.

Note: If content has been assigned to users, based on a Custom Attribute filter, then this cannot be deleted.
When a Custom Attribute has been created, it will be visible in the User Management section when adding a new user; they can also appear to users before completing a direct access course if the Data Validation Form has been enabled. 
Custom Attributes will be mandatory fields that the Admin user must complete when creating a new user: