Following the use of automated reminders on the Platform, we can also send an Uncompliant Email.
To send an Uncompliant Email to users targeted with a Learning course, follow the steps below:
Navigate to Products>Learning>Learning In Progress.
You will then see the 'Email Status' and 'Actions' at the top right-hand side of the page. Under 'Options', you can send an Uncompliant Email.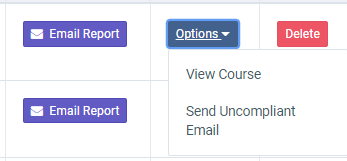 Note: An Uncompliant User is a user who has failed to complete their targeted content despite having received all of the assigned weekly reminders.