6042602529937
Get instant support with our search!
Back to all articles
Where Can I Find Details on a Reported Incident?
As an Admin, once an Incident has been reported, you will receive an email notification informing you of a Reported Incident.
To look through the information contained within the Incident reported, go to Incident>Reported Incidents.
This will bring you to a list view of all existing Reported Incidents. You can view the details by directing to the 'Actions' Column beside whichever Incident you would like to view further, and click View Incident: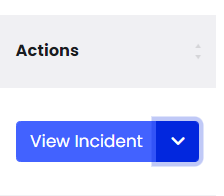 Clicking View will bring you to the Reported Incident Assessment where you can review, complete and resolve the Incident Reported.
Selecting Summary from the arrow will bring you to a read-only view of the Reported Incidents Summary which you can also print.  If you would like this hard copy, simply click the Print option.