5959056139281
Get instant support with our search!
Back to all articles
How to Add a Placeholder to your Phishing Simulation
To add preloaded Placeholders to your Phishing Simulation, select the button above the email body, shown below:

Once you've selected this, a drop-down will appear with different Placeholders that you can utilise depending on the topic of your Phishing email.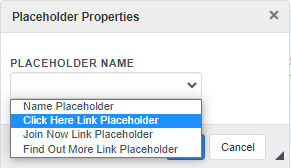 Select the one that is appropriate, and choose OK.
This will then be inserted into your Phishing simulation and will populate with the relevant information for the end user.