4415871918225
Get instant support with our search!
Back to all articles
Red Flag Learning Experiences
To help users understand what to look out for in Phishing emails, we have created a range of Learning Experiences outlining the potential red flags.
Each of the Learning Experiences directly relates to a MetaPhish Email Template:
Amazon - Billing Issue Template
Annual Leave Policy - Quarantine Template
Contact Tracing UK Template
Microsoft File-Share Template
Microsoft Updates Template
Office 365 Template
Outlook Update Template
Quarantine Report Template
Reset Password Template
SharePoint Logon Code Template
Updated Working from Home Policy Template
Urgent COVID Update Template
Example Red Flag Learning Experience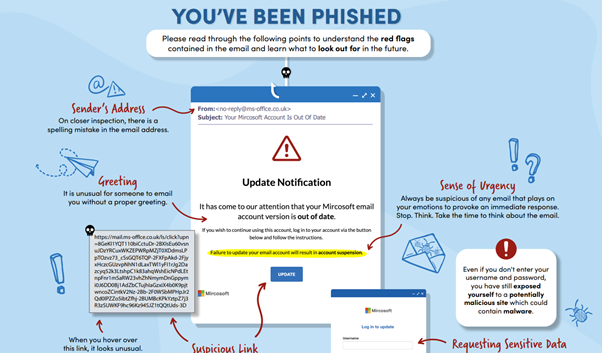 Follow the steps below to send a Simulated Phishing email to your end users with the corresponding Learning Experience linked.
'Options' Tab
Navigate to Phish>Phish Creation>Create.
Enter a Name and Description.
Select the required Language & relevant Category.
'Manage in Campaign', 'Save as Test Data' and 'Anonymous Responses' are all optional extras that can be selected if required.
'Email' Tab
Click Choose Template.
Locate the required Phish Template from the library, i.e. choose from one of the templates listed at the beginning of this article.
Once located, click Save and Close.
'Email Attachments' Tab
'Email Attachments' are optional, select Yes to include within the Simulated Phish.
'Learning Experience' Tab
Upload your Company Logo, and add Button Text to the phish, e.g. 'Complete'
Locate the relevant Learning Experience from the Learning Experience Library. (Each Red Flag Learning Experience has been assigned the same name as the Email Template.)
Click Select to add the Learning Experience to the Phish.
'Exit Summary' Tab
If required, the 'Exit Summary' text can be customised.
'Target' Tab
Select the preferred Time zone - UTC.
Emails can be staggered to ensure these are not sent to all users at once.

To stagger the sending of the Phish to all users, select Yes on the 'Stagger' option.

If you have chosen to stagger the phish, select a Start and End Date.
You can also choose the Delivery Hours and Delivery Days on which the email should be sent.
Select the Users or Groups to whom the Simulated Phish should be sent.
Once you are ready to send the Phish, click Publish.
If you have not selected a specific time, the Phish will be sent in the next hour.