4407764448529
Get instant support with our search!
Back to all articles
Privacy Assessment - What is the Difference in Adding Register-type Questions Compared to Assessment-type Questions?
Register-Type Questions
When adding a register-type question, a pre-created register field will need to exist within a register before it can be added to an assessment. 
In most cases, it is advised that customers use a register-type question, especially if you want the responses provided in this question to feed into a register record, which can then be reported on within Privacy Reporting. 
Register-type questions can also populate some reports within the Privacy Dashboard and can have rules set against using the Rulebase feature.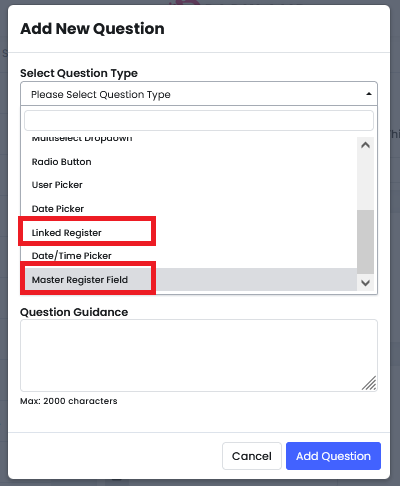 Assessment-Type Questions
Assessment-type questions can be quickly added to assessments as they don't need to have a pre-created register field to link to. 
Assessment-type questions are mostly used if customers have no requirement to report on the data within a register or Register Reporting, i.e. Yes/No dependent questions, or which do not require the responses to the question to trigger rules via the Rulebase feature.