Trigger Options allow you to select a trigger that will prompt which Rules are to be run.
Once you are in the edit view of your rule, click the Trigger Options in the top left banner.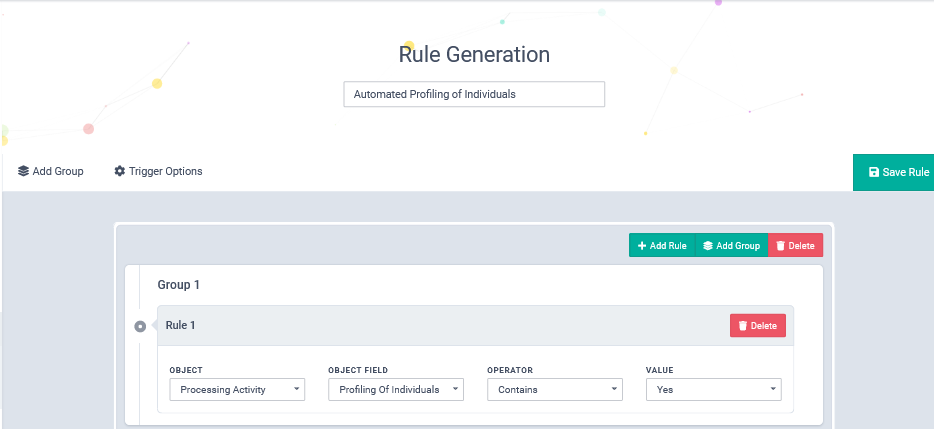 A pop-up model will appear that will allow you to select one of the trigger options below for the Rule:
After Assessment

Approval (Default Trigger Logic): the Rules will be triggered for all assessments.

After Single Assessment Approval:

the Rules will only be applied against responses provided in a particular assessment.

If after Assessment

Approval has been selected, you will be asked to select a particular assessment.

Every Night:

the

Rule will be triggered on a nightly basis at 2am. (This will apply for responses provided either via an assessment or added directly into a register.)

Once a Week:

the

Rule will be triggered on a weekly basis.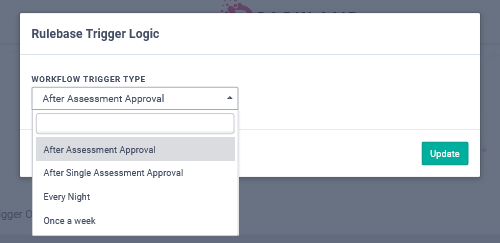 Once you have selected the relevant trigger type, click on the green Update button. Remember to save any changes by clicking on the green Save button on the top right banner.
NEXT - 4. Rulebase - How Do I Activate and Deactivate a Rule?