4407224356369
Get instant support with our search!
Back to all articles
Article 30 Assessment (ROPA) - Basic Template (Overview)
The Article 30 Assessment (Basic) Template provides the minimum amount of information you need to collect for your processing activities, while still making use of the data from many of our registers. For existing customers who used the default Privacy Assessment (pre-April 2020), the assessment will include all of the standard questions used, and allows for further customisation to your organisational needs.
Existing customers (pre-September 2020) wishing to use this assessment will be required to update their Privacy registers to the latest version. Please contact your Customer Success Manager or Onboarding Manager to discuss this upgrade.
To ensure the assessment is streamlined and simplified for respondents, it will assume that many of the users' responses are the same across all events. For example, the assessment will assume:
the same data types that are collected, will be data types that are transferred to Third Parties;
the same items of data added to the Processing Activity will be stored on all Business Systems/Assets linked to the processing activity;
the same Data Records (Residency & Type of Individuals) apply across all processing events.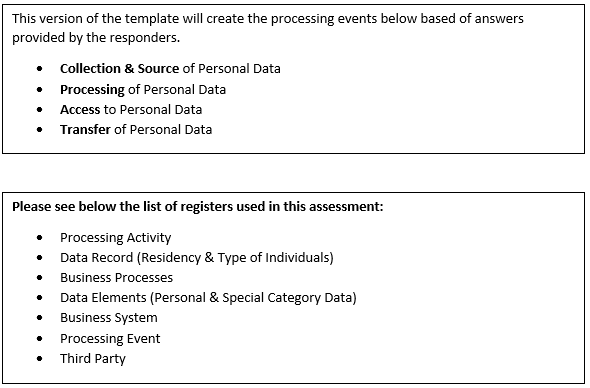 Considerations
Selecting this assessment template will likely make this a less daunting task for the responders; however, the drawback of this is that you won't be able to drill down to the level of detail mentioned above, and this version may impact which reports are available to you in the future.
Our Intermediate version of the Article 30 Assessment does allow for a more granular level of detail; therefore, you need to consider which assessment versions best suit your organisational needs.
Assessment Flow Diagram