To delete a campaign, you first need to select the Campaigns tile followed by Campaigns in Progress.
Search for, or select, the campaign you wish to delete.
Click on the

red

Delete button (located on the right-hand side of the platform):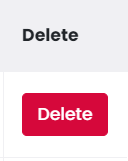 You will then be greeted with the following information:

If you still wish to proceed after reviewing the above message, select Delete Campaign to finalise.