13556882663697
Get instant support with our search!
Back to all articles
How to Delete a Campaign
To delete a campaign, you first need to select the 'Campaigns' tile followed by Campaigns in Progress.
Search for, or select, the campaign you wish to delete.
On the 'Actions' column click the arrow and click the Delete button: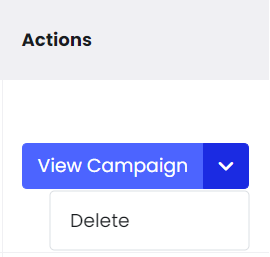 You will then be greeted with the following information:

If you still wish to proceed after reviewing the above message, select Delete Campaign to finalise.