12994572229009
Get instant support with our search!
Back to all articles
Is There a Passmark on Embedded Quizzes?
To be released 1st July 2023
Yes, you can add a passmark to embedded quizzes by selecting Include Quiz>Set Passmark.
This will allow you to set a passmark (ranging from 0-100%) for the embedded quiz.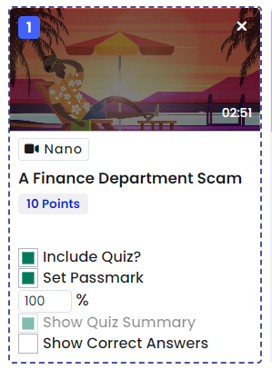 If you do decide to include a passmark, then the 'Show Quiz Summary' functionality will automatically be enabled, advising end users of the score they achieved and if they have passed the quiz.