The new 'Viewer Discretion Advised' tile provides your staff with a method to engage, at their own pace, with our not-so-typical eLearning.
This training is aimed at increasing user satisfaction while, at the same time, reducing employee resistance to participating in cyber security and compliance education.
You can access this material by navigating to Settings>Company Edit>System Settings and toggling 'On' for the Show Viewer Discretion Videos on Teams option. (This option will only be visible if you have installed the latest version of the MyCompliance Teams App, and you are on the Premium Plus subscription.)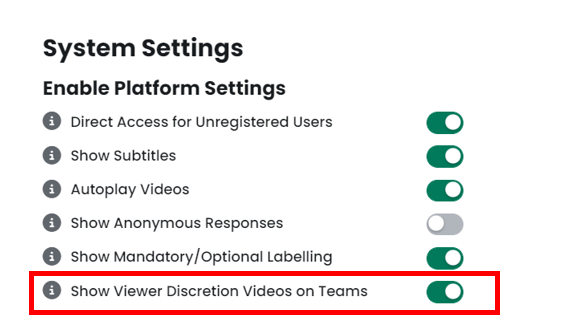 Once you enable this tile, all our City Factory Productions™ videos will be available to end users for review. Users do not need to be targeted with these videos; however, they are available within Fusion so that you can incorporate them into your eLearning Courses.
City Factory Productions™ is available to Premium Plus customers only.
For further information speak to your MetaCompliance Representative or refer to the following article: