10372872624913
Get instant support with our search!
Back to all articles
Can I Edit a Blog?
Yes, to edit a blog, you first need to navigate to Campaigns>Blog Creation.
Next, expand Existing Blogs to view all available Blogs.
Locate the blog you wish to edit, and under the 'Actions' column, click Edit Blog.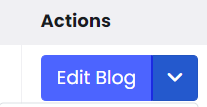 The Blog will populate in the Blog Creation section above.  Once you have made the desired changes, simply click .