10372774928657
Get instant support with our search!
Back to all articles
Can I Delete a Blog?
Yes, to delete a blog, you first need to navigate to Campaigns>Blog Creation.
Expand Existing Blogs to view all available Blogs.
Next, locate the blog you wish to delete, and under the 'Actions' column, click the arrow and click Delete.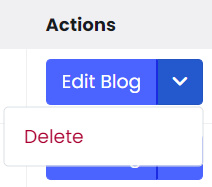 You will then be prompted with a confirmation screen. Click Confirm if you wish to go ahead with deleting the chosen Blog.